Alexis Korner
"Alexis Korner & Friends" DVD – Live At The Marquee in 1983 –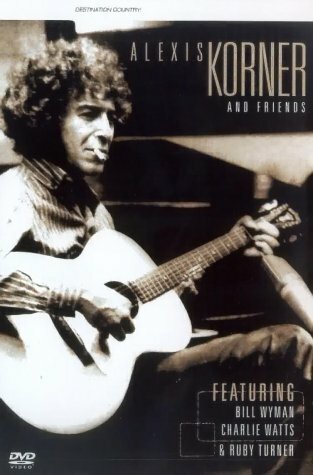 Chapter Selection (55min)
1. Introduction
2. Timber (J.Pickard)
3. How Long Blues (Carr/Engberg)
4. Hoochie Coochie Man (W.Dixon)
5. Willie's Trick (J.Pickard)
6. Mean Fool (A.Korner)
7. Heavy Hearted Blues (L.Feather)
8. Lawdy Miss Clawdy (L.Price)
9. I'd Rather Go Blind (Jordan/Foster)
10. Blue Monday (Bartholemew/Domino)
11. Clapping Song (L.Chase)
Alexis Korner (Vocal, Guitar, Piano)
Guitar: Nico Korner
Bass: Bill Wyman (vocal on Track8)
Drums: Charlie Watts
Keyboards: Ian Stewart
Horns: John Pickard, Willie Garnett, Mel Collins, Ted Bunting
Vocals: Ruby Turner, Jaki Graham
April 29th 1983, the 2nd night for The Marquee' 25th Anniversary gig
Directed by Derek Burbidge
Produced by Philip Goodhand-Tait and Maurice Bacon and Kate&Derek Burbidge
DVD Directed by Robert Garofalo: DVD Produced by Lyn Beardsall: DVD Editer Joanne Doyle
Sound Remixed by John Buckley: DVD Menu designed by Nathan Turner: DVD Authoring Carl Ardron
Cover Design Adam Lovesey
(c) 2002 Classic Pictures Entertainment
(c) Vita Viva Productions Ltd 1983 in Association with Trilion Pictures Ltd, Zoetrope Ltd and Marquee Entertainments Ltd
SPECIAL FEATURES (40min)
*Biography & Discography
*The Man & His Music: 25-Minute Documentary On Alexis Korner
(c) 2002 Classic Pictures Entertainment
Produced by Classic Pictures Entertainment
Featuring: Bob Harris, Ruby Turner, Jaki Graham, Mel Collins & Carlo Little
Directed & Edited by Robert Garofalo
*Tribute Documentary On Furry Lewis
(c) 2002 Classic Pictures Entertainment
Produced by Classic Pictures Entertainment
Language: English
Audio: 5.1 Dolby Digital/2.0 Dolby Digital
Format: Screen Ratio 1.33:1/PAL
Region: All Regions
The governor of British Blues, Alexis Korner was a pioneer who had a tremendous influence on the sound of the 1960's British pop groups.
Recorded live at the Marquee Club, London in early 1980's, this DVD of the concert captures the true genius of Korner's talents, and features some of the finest musicians in history including Bill Wyman, Charlie Watts, Ian Stewart and Ruby Turner.
Korner's music was original ranging from the origins of skiffle through to country, electric blues, R&B and rock 'n' roll combining his accomplished guitar playing with his deep gravely voice proved to be a huge success. During is lifetime Korner released over 25 solo albums, and throughout Europe was considered one of the finest performers of his lifetime.
Those who had the luxury of performing with Korner include the who's who of the Rock 'n' Roll and R&B world: Mick Jagger, Keith Richards, Charlie Watts, Bill Wyman, Eric Clapton, Jack Bruce, Ginger Baker, Steve Marriott, Peter Frampton to name but a few.
With the untimely demise of Alexis Korner in 1983 this DVD is a unique and rare collectors item.
www.classicpictures.co.uk