Alexis Korner's Blues Incorporated
"Sail On"
"Blues From The Roundhouse Volume 2" (Tempo EP, EXA102) is one of the most difficult to find stuff in Alexis Korner collections.(I haven't got it yet).
However, you can listen to a song called 'Sail On' on a couple of compilation LPs.
"The History Of Rock Volume Twelve"
(HRL 012)
Side 3 - Track 7
Side One – B.B. King
Side Two – The Yardbirds
Side Three – Alexis Korner
Side Four – Fleetewood Mac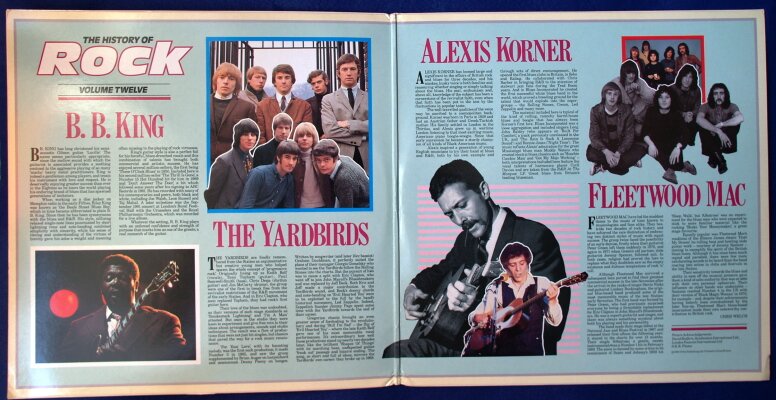 Liner Notes
By Chris Welch
Alexis Korner has loomed large and significant in the affairs of British rock and blues for three decades, and his smokey, husky voice is both familiar and reassuring whether singing or simply talking about the blues. His zeal, enthusiasm and, above all, knowledge of the subject has been a cornerstone of the revivalist faith, even when that faith has been put to the test by the fluctuations in popular taste.
The well-travelled qualities of the voice may be ascribed to a cosmopolitan background. Korner was born in Paris in 1928 and had an Austrian father and Greek/Turkish mother. His family settled in London in the Thirties, and Alexis grew up in wartime London listening to that most exciting music, American piano boogie-woogie. Since that early conversion he bacame a sturdy champion of all kinds of Black American music.
Alexis inspired a generation of young English musicians to try their hand at blues and R&B, both by his own example and through acts of direct encouragement. He opened the first blues clubs in Britain, in Soho and Ealing. He collaborated with Chris Barber in bringing R&B to the attention of stalwart jazz fans during the Trad Boom years. And in Blues Incorporated he created the first successful white blues band in the world, which proved a breeding ground for the talent that would explode into the supergroups – the Rolling Stones, Cream, Led Zeppelin and many more.
The material included here is typical of the kind of rolling, raunchy barreal-house blues and boogie that has always been Korner's first love. Blues Incorporated was a loose aggregation and included singers Long John Baldry (who appears on 'Built For Comfort', a track previously unreleased in the UK, and 'The Rain Is Such A Lonsome Sound') and Ronnie Jones ('Night Time'). The music reflects Alexis's admiration for the great Mississippi blues man Muddy Waters who created electric blues classics such as 'Hoochie Coochie Man' and 'Got My Mojo Working' – both interpretations included here feature the vocal talents of harmonica player Cyril Davies and are taken from the R&B At The Marquee LP. Great blues from Britain's leading bluesman.
"Kings Of Skiffle"
(DS3212/1-2)
Seite 2 - Track 1